I am the author of this resource on the Beam Forums:
https://www.beamng.com/resources/wigeon-monster-toy-truck.19432/
Find our mod development space at:
Discord.RevolutionRacecraft.com
How might the Wigeon be made any better, you ask? Add six feet to the height!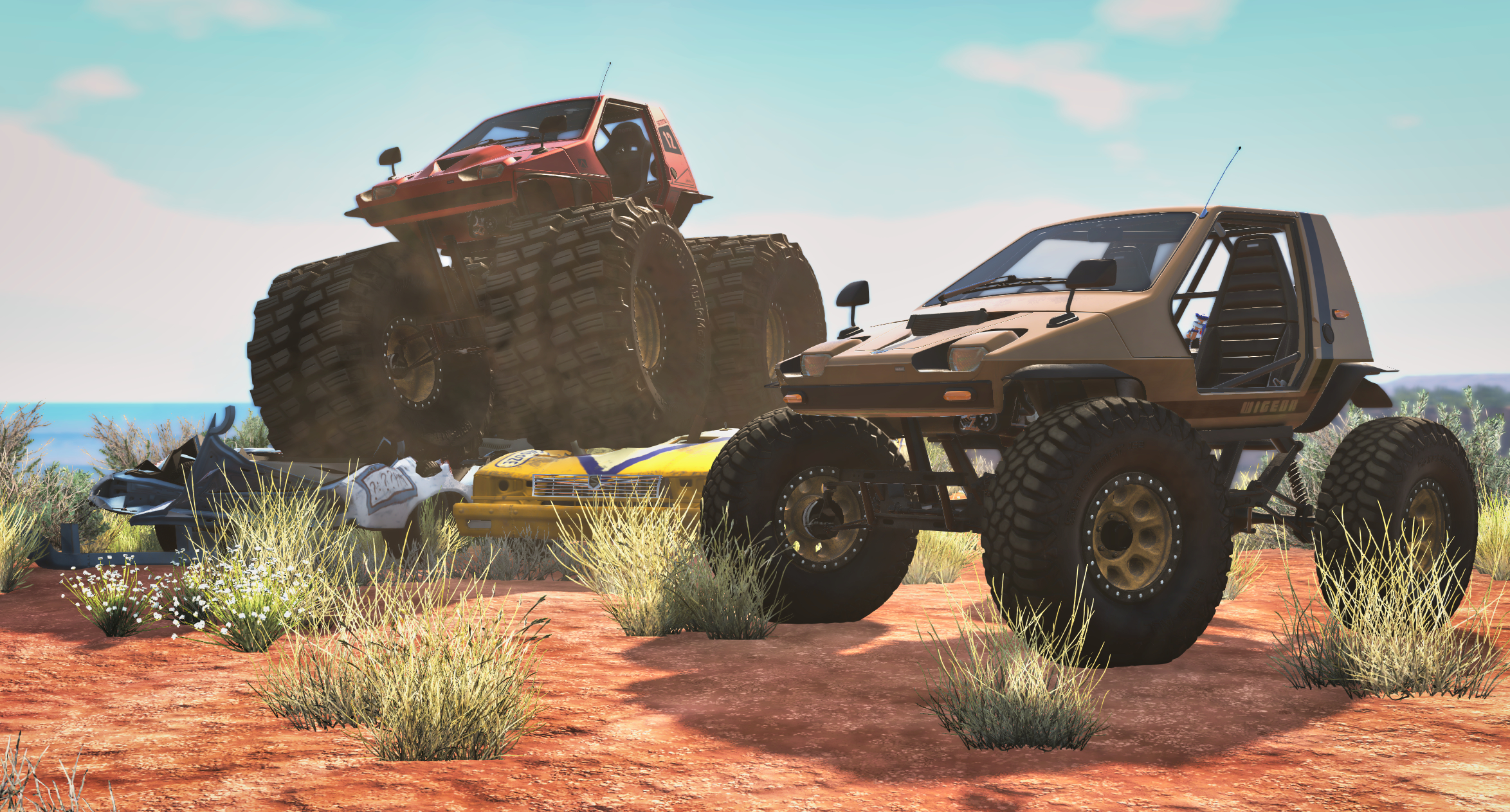 What we have before you is the result of a bored afternoon transpiring into Wigeon Madness.
This quick whip up features the following accompanying parts to two Wigeon tuff boi combos:
Two frames for the "Bigeon" and "Earth Crawler" Configs

Front and rear suspension for wide track offered in 6 and 5 lug

"Torque Master" 2500CC engine for moving the behemoth of tires

24x22 Trial 250 Off-Road wheels

59x30R24 BIG boy tires

Additional supporting parts to make the big ol' lifts function properly, which can be found in the configs
Pitfalls to a 1-day mod:
Handling / stability / drivability is a subpar at best - still memes hard

Realistically doesn't weigh enough, frame and chonky boy tires especially are on a serious diet

Wheelies rather easily, This might be a pro actually…

If you put a Toy truck body on the original frame you'll have floating props such as the pedals and needles, couldn't be bothered to change the props nesting structure from vanilla

You can probably cause an instability by swapping non-toy truck parts in due to scaling of strength and weight factors - so don't do that!

If you're that 1% of elites who manually activate nitrous, you can blow this unit to pieces by spamming the input (vanilla car issue in-short, couldn't be bothered the least bit)

A naturally aspirated inline four cylinder and a 5-speed manual transmission isn't exactly winning any Choice Awards for a monster truck powertrain, but I've made do with what I got.
Credits:
BeamNG: For making a fantastic little toy
@Dee-Dop
: Helping me improve suspension stability and handling
@Kelly The Dragon
: Beta testing
RR/2Fast Racing teams: Being absolute studs as always to help me shape things up.
Here's a few more pics I grabbed the other night, Enjoy!!